Explore Your Financial Options
At New Mexico State University Global Campus, we're dedicated to providing as many opportunities as possible for students to achieve their education. Our students have access and equal opportunity for financial assistance through federal, state, institutional, and private sources.
Our Financial Aid team can answer your questions and help you navigate the process from start to finish.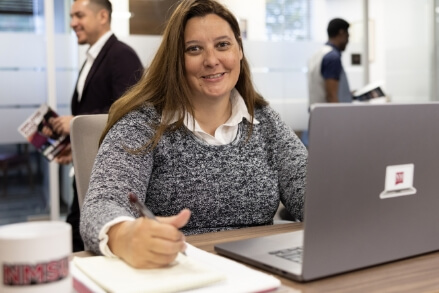 Tuition Costs
For NMSU Global Campus programs and courses, see the cost per credit below. Special tuition agreements (Western Undergraduate Exchange, Western Regional Graduate Program, Descubre, etc.) are not applicable to NMSU Global Campus programs.
| NMSU Global Campus Students | Cost per Credit Hour |
| --- | --- |
| Undergraduate (Bachelor's, all students) | $395.40 |
| Graduate (All students) | $444.40 |
| Active Duty Military | $250.00 |
| Active Duty Law Enforcement | $250.00 |
The cost per credit hour will be determined by the program or course level. The cost per credit hour is a fixed rate. The cost per semester will be the applicable fixed rate/credit hour x the number of credits.
Other Cost Information:
Course fees still apply and are charged separately.
Textbooks, uniforms, equipment, etc. are additional program costs.
Additional per credit costs might be charged by the program, department, or college.
Institutional fees, such as application and graduation fees, still apply and are charged separately.
Payment Plans
There are several ways to pay for your education at NMSU Global Campus. Choose one of our flexible payment and financing options linked below to get started.
Scholarships
We offer an array of scholarships to new and continuing students. To apply for scholarships, use our convenient Scholar Dollar$ one-stop scholarship application, which serves all students in the NMSU system.

Are you a resident of New Mexico? Get up to 100% of tuition covered toward a bachelor's degree with the New Mexico Opportunity Scholarship. Learn more to see if you're eligible for this opportunity! Terms and conditions apply.
---
FAQ
Yes! There are eligibility requirements; however, these requirements apply to all students regardless of which campus, physical or virtual, they study at.
The financial aid advisors meet virtually with online students during regular business hours, Monday – Friday, 8 AM – 5 PM Mountain Standard Time.
Schedule an appointment
with an advisor today.
Many federal and state grants (for NM residents) are available. Grants are needs-based and do not have to be repaid.
Yes, each college offers various scholarships to their students.
You can apply year round. However, March 1st is the priority deadline to apply. Applicants are encouraged to apply early and annually.
When you fill out the Free Application for Federal Student Aid (FAFSA®) form to apply for financial aid for college or graduate school, please use NMSU's Federal School Code: 002657.
Request Information
Loading...