Get Up to 100% of Tuition Covered Toward Earning a Bachelor's Degree
Earning a degree from NMSU Global Campus is now more affordable than ever with the New Mexico Opportunity Scholarship! This scholarship opportunity, exclusively for New Mexico residents, covers up to 100% of tuition toward a bachelor's degree (eligibility requirements apply).
Established by the state in 2020, the New Mexico Opportunity Scholarship is designed to reduce debt and make a college education more accessible for New Mexican students and families.
By earning a college degree through this opportunity, graduates can secure higher-paying jobs, better support their families, start businesses, or continue their education without the heavy burden of college debt.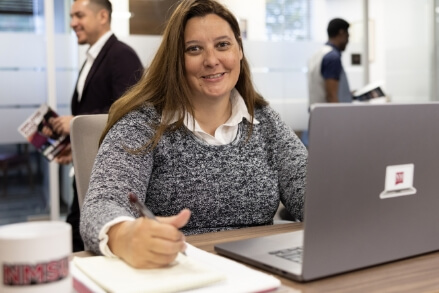 Request Information
Loading...
Scholarship Information
Must be a New Mexico resident with proof that you've lived in the state for the past 12 months
Applicable for first-time bachelor's degrees
Must plan to enroll in 6+ credit hours per term
Students who would like to complete a degree program they previously started must have no more than 160 earned credits toward a bachelor's degree to qualify